So, unless you are living under a rock, you know that this week is Shark Week.  I think sharks are awesome; however, they are one of the reasons I am irrationally fearful of large masses of water.  Don't get me wrong, I will go in the ocean.  But, I prefer to take a piggy back ride out or I have to walk directly behind someone to make sure I won't step on anything.  I have compiled a few things in honor of this momentous time of the year, SHARK WEEK.
Georgetown Cupcakes via Discovery Channel – $39.95
Etsy has a number of artisans who will create shark cookies, cupcakes, and other delicious snacks to devour.  Check them out for Shark Week; but, also keep them in mind if you end up  doing a shark themed event (hint hint 28th Birthday) in the future.
This is adorable for a child and perfect for the child at heart.  Why not switch out your briefcase for the week and rock this bag boy..?
I love the colors of these socks and they are perfect for a groom or groomsman who loves shark week.
This shirt is awesome because it is definitely not something you would expect to find with sharks all over it.  Wear casually untucked or tuck it in a high waist pencil skirt throw a cute cardigan and dress it up for work.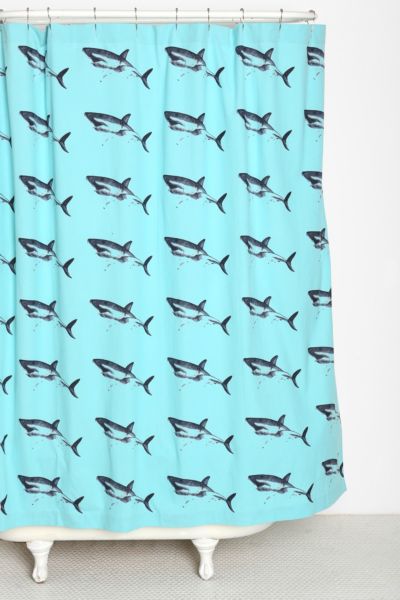 Are you afraid to go in the water?? This is a fun shower curtain and could easily be the focal point of a simple aqua, white, or pretty much any color bathroom.
I love the fact that this tank displays a hammerhead and not the standard great white.