This week's B vs. B Challenge takes a classic tulle midi skirt and is revamped into the Blonde version and the Brunette version.  Everyone's style is unique, including ours.  We love seeing different ways to wear the same item.  Take a look….
The item: Midi Skirt 
ShopRuche.com : Spring Romance Tulle Midi Skirt $36.99
KRISTIN – THE BLONDE
I usually go for a skirt or dress with a little more structure; but, I really like the soft, femininity in the color, fabric, and length.  Since the summer is quickly approaching, I thought I would do a casual work/play outfit.
Forever21.com : Embroidered Mesh Top $17.80
This shirt echoes the feel of the skirt; for this look I would definitely tuck the shirt into the skirt.  I love the vintage feel to the embroidery and love that the piece is so versatile and reasonably priced.  I can never have too many cream shirt, but this shirt is different.  It is interesting and it will automatically add style to an outfit.
Forever21.com : Leopard Belt $4.80
A belt for this look will help create a better waist for me since the skirt hits a little lower than my natural waist.  I chose to add my unexpected "edge" with my accessories.  As much as I wish I was, I am not rock 'n roll.  In our duo, the Brunette takes the cake for edge.  But, I do like to add something that you don't expect to see and leopard is a simple and reserved way to do that.
ShopRuche.com : Spring Romance Tulle Midi Skirt $36.99
Adorable and ballerina inspired.  And I am obsessed with blush.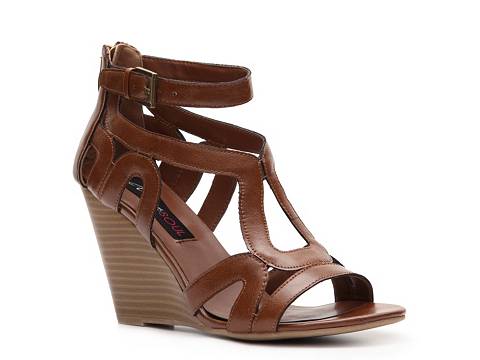 DSW.com : Heart Soul Anaise Wedge $59.95
I have been salivating over cage wedges for the past couple seasons and lucky for me, they are here to stay, for at least the time being.  I love these because they look so comfy yet unique.  I chose to pair them with a wedge because the length of the skirt.  I looks like it will hit closer to the knee and I wanted some height so I didn't look dumpy.
I would finish this look off with a fun, loose, side braid.  It will keep the hair off you neck but look so cute and effortless yet so chic.
ALEX – THE BRUNETTE
This skirt is not something I usually go for.  But, when Kristin and I decided to put an outfit together using this skirt, I knew I wanted it to be unique and ME.  I like having some sort of theme when I'm putting an outfit together.  The theme for this outfit is "Rock n Roll Ballerina".  Check it out to see why…..
Urbanoutfitters.com – Pins and Needles Hyde Jacket $69
This leather jacket automatically adds what I love most about fashion; contrast.  I love the edge the leather brings to this girly midi skirt.
Topshop.com – Cropped Soft Cami $30
I would keep the top simple and sleek.  This crop top allows for the skirt and shoes to be the focus.
Shopruche.com – Tulle Midi Skirt $36.99
THE SKIRT!  So cute, almost too cute for my taste.  Which is why I love it; it's unexpected.
Zara.com – High Heel Vamp Shoe $89.90
These shoes are goooorrrggeous.  They are sexy, classic, and go perfectly with this look without looking costume-y.
I would finish this date night in D.C. look with a top knot and matte black nail polish.
What do you think of our BLONDE vs. BRUNETTE takes on the tulle midi skirt?!
Find us on IG:
@alex_bubblyonabudget
@kristin_bubblyonabudget